You thought I forgot about you, my poor neglected sad little blog. Nope. Just been busy. We are house hunting and boy does that take up a lot of time. We also had a visit from the Chicken Pox, kidney infection/stone for me and then a tornado scare last night. I have managed to get some card making done, but nothing too terribly exciting.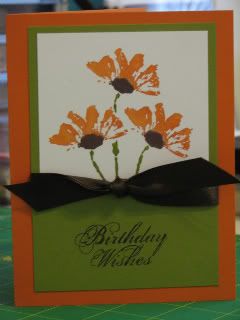 You know what's really sad though, I own over 30 wood mounted SU sets now. Do I ever get time to use them. RARELY!!! It gets depressing seeing them sitting there being unused. Some days I am so tempted to just get rid of them all. But I perservere and remind myself that I am a SAHM first, crafter second. Or third, or fourth...
My almost 3 yr old dd must know what I am feeling. The other day she picked up a bunch of ribbon and put it on my craft table. "Mom, I want you to sit here and make a card." LOL!!