Well, I fell off the wagon. I bought something. I was lurking in BST forum like a crack ho looking for a fix. When suddenly I saw a great deal on a PTI set. I had to jump on it. I just couldn't contain myself.
And what a disappointment because today is day 20. Only had 10 days left. And it would have been so easy because we will be going on vacation in a few days.
I did refrain from buying ALOT of other times. There was PaperTrey Ink's July Release. And then SU! had stuff that I could have pre-ordered since I'm a demo. Ucut@Home and 7kidscollegefund kept emailing me with their sales flyers. Several times I fought the desire to go into my LSS, which is right next door to the Post Office. So all in all I think I did okay.
This challenge has taught me quite a few things. Well, besides that I am a loser and a failure and weak. LOL! Just joking. It taught me that yes, I can live with just the stamp sets and tools and embellishments and paper that I have already. And that just because there is a new Release I don't HAVE to jump right on it. I found other ways to deal with my stress and occasional depression. It also made me get up off my butt and do some cleaning of the craft room. I sold a few things on ebay and that money is going towards paying off my credit card.
So all in all, it was a
very good
challenge. And I am so glad that I tried it. I am going to try it again soon. But in the meantime, I think this has helped curb my spending habits. And for that I am very grateful.
I leave you with a card that my almost 6 yr old made for her cousin's Birthday. She was so proud of it. She did everything herself. And since we just moved and I am still SO unorganized I couldn't find her markers so I taught her the Blender pen dipped in the ink pad top technique. She caught on like a pro. I even let her use my Copics. *gasp*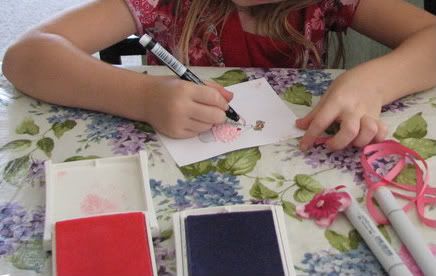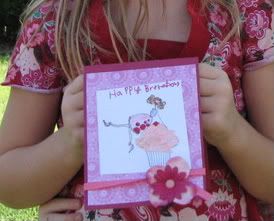 I won't be back until after vacation. Have a great week everyone!!!