It did, however, take about 2 full days. Pathetic, no? But I'm happy with them just the same. I never can seem to find the energy to be creative after a full day of chasing a 2-1/2 yr old around. But miraculously today, I got an hour to myself. I was able to finish off the 3x3 cards and begin planning a layout for my next swap that is due. Well, actually I have a confession. I don't seem to work/create very well under severe pressure. You know, when you realize a swap is due in a week. Then time passes and you are down to the wire. I used to do that in college. But just can't do that anymore. Way too many distractions as a mother. Anyway, I thought I would start working on my swaps from the bottom up. So, I went through all my March swaps, took the one due latest and created my cards for it. At a nice leisurely pace. Well, 2 days is not quite the pace I had intended, but it's a start.
The feeling of accomplishment is wonderful! Being a stay at home Mom, I often feel like I am running in circles, never fully finishing
anything
. But I actually finished some cards for a swap. I hope my hostess likes them.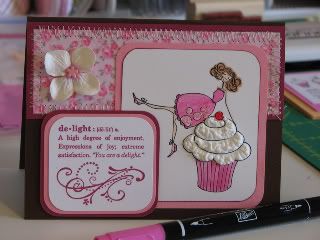 I received the Bella image from a fellow SCS'er. I saw her in the ISO forum looking for Bellas, so I was able to trade with her. She sent them on Shimmering Cardstock. I had never seen this before and it is so pretty! I will be ordering (and then hoarding) some of that soon.
I got to use my new Define Life set which came free from SU when I joined as a demo last month. I love that set!! I put some liquid applilque on the cupcake as frosting. Of course used some stickles and crystal effects on the cherry.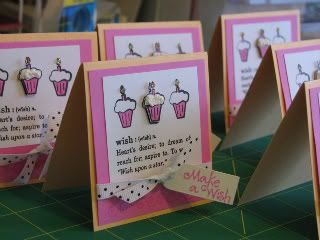 This cute 3x3 card was whipped up in no time. I love the wish saying and matched it with a Studio G set that I picked up (and never used until now) at Michael's. Popped up the middle cupcap and added some more stickles on the candle and some liquid applique. Fun stuff!