So the biggest challenge of this 30 day no spend challenge is to find the actual time to make something! My kids are getting so stir crazy. I barely have a moment to even post this today.
I had another friendly neighbor stop by with a welcome gift the other day. So I quickly whipped up another mailbox and stuffed it full of chocolates. I even used my Chatterbox paper that I have been hoarding forever. I know it's simple and boring, but I'm just glad that I was able to get something done and show my thanks to my new neighbor.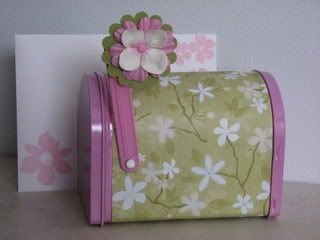 I have a bunch of cards that I am simultaneously working on right now. My desk is a mess! Unfortunately the girls have been super high maintence lately so by the time they are in bed, I am ready myself. It's so depressing to see all of my stuff sitting there for days without me being able to really get some time to play. I see blogs where people make at least one thing a day. And they have kids! How on earth do they do it? Anyone have any tips??