Right before I started the 30 day no spend challenge, I visited my beloved scrapbook store. I picked up some really cute patterned paper with the idea of using it on a scrapbook page. But I decided to use just a bit on a couple of cards. I took this layout from Emily Giovanni from her post here:
http://emilygiovanni.com/?p=2170
(Sorry I don't know how to do the fancy linking on blogger yet!)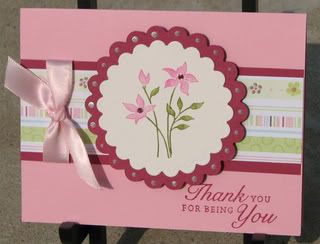 Stamp Sets: SU! Garden Silhouettes, SU! Best Blossom
Ink: SU! Purely Pomegranate, Pixie Pink, Green Galore
Paper: SU! Pretty in Pink, Purely Pomegranate
Misc: PTI Blush Ribbon, Nestabilities, Liquid Pearls
This next card I struggled with for a bit. I tried using the bashful blue craft ink to emboss the sentiment, but it just didn't show up too well on the pink. I like the certainly celery but now looking at it, it doesn't tie in too well. I might add anther ribbon in green. But really, I am just glad that I actually completed a card!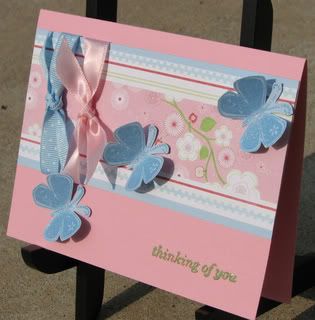 Stamp Sets: SU! Priceless, PTI Anniversary Set (sentiment)
Ink: SU! Certainly Celery Craft
Paper: SU! Pretty In Pink, Bashful Blue
Misc: PTI Blush Satin Ribbon, Hobby Lobby blue polka dot ribbon, SU! Irridescent Ice
I know I said I was going to get away from my "go to" color of Pink but it's soooo hard!!! I'm going to look on SCS for some Color Challenges and my next cards will incorporate those. Thanks for looking and have a great day!